Secret Memory

In
the brain-mechanism programed by the mind
with
the development of my consciousness in nature, arts, science and multi-culture;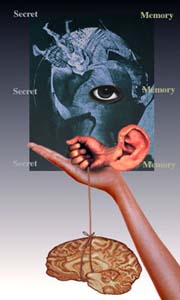 By Yuzo Nakano
* My new home page, Secret Memory, is a metaphor for the brain interaction in the three worlds that has not yet been completed. Thus, the interactivities in some pages may not be functional. However, I decided to present the incompleted ones through the internet. I would rather show a continual process to express my ideas in the structure of my home page. I would be interested in receiving your responses to this project.
This site is included more than 200 pages.





world 1 | world 2 | world 3 | myself | guest book | HOME |


Back to Index The War; The Last Massmurder in the 20th Century. -->


This site has been selected by cool Site the Day & Cool Central Site the Hour on july 14 1997

*1998 - This site has been selected to exhibit at the Sixth Annual New York Digital Salon


 contact:
 Yuzo Nakano
Copyright © 1997 Yuzo Nakano All rights reserved.